***********************************************************************
2020
FERRIS, Edward J S "Spencer" ( the icecream man)  1935-09 Jun 2020 .
***********************************************************************
2020
RASHLEIGH Terrence F M  "Terry" ( 1939 – 03 May 2020)
Peacefully on Sunday May 3rd 2020 at Trengrouse House Helston, Terry, aged 81 years.
Formerly of Gibson Way, Porthleven. Loving Husband of Jean. Funeral Service to take place at 12 noon on Wednesday May 13th 2020 at Treswithian Downs Crematorium Camborne. Due to the current situation with the Coronavirus, only close Family Members are permitted to attend his Funeral Service. Any enquiries to The Funeral Directors David Mitchell and Son Porthleven, Telephone 01326-562261.
*******************************************************************
BROWN, Shirley May (     – 24 Feb 2020)
The family of the late Shirley May Brown would like to express their sincere thanks to all friends and neighbours for the messages and cards of sympathy, to all those who attended the funeral at Porthleven Methodist Chapel and kind donations received for the Renal Unit at Treliske. Grateful thanks to Rev Danny Reed, organist David Philp, soloist Jesse Giuljani, florist Debbie Dyer and Pendles Funeral Services for their care throughout the funeral arrangements. Also thanks to Leigh and Adi, Atlantic Inn for the reception.
BROWN Shirley On Monday 24th February 2020 peacefully at her home in Porthleven with her two daughters by her side. Shirley aged 84 years. Much loved mum of Allison and Neil, Tracy and John, loving Mammar to Emily, Charlotte, Joshua and Zakary. She will be very sadly missed. Funeral Service at Porthleven Methodist Church on Monday 9th March 2020 at 11.00 a.m. followed by Interment at Porthleven Cemetery. Donations in aid of The Renal Unit (RCH Treliske) may be sent c/o Pendle Funeral Services, The Firs Funeral Home, St Johns, Helston, TR13 8HN. Tel: 01326 573080. www.pendlefunerals.org.uk
******************************************************************
2018
CHANTER,  Barbara  nee WEAR  ( 1927 – 09 Oct 2018)
daughter of  Joseph H WEAR & Emily MM OATES (married 1926 )
On Tuesday 9th October 2018 peacefully at Treliske Hospital, Truro. Barbara aged 91 years of Porthleven. Dearly loved wife of the late Gordon, much loved mum of Adrian and Mary, adored nanny of Katy and Samuel. She will be very sadly missed by all.
Funeral Service at Central Methodist Church, Helston on Tuesday 23rd October 2018 at 2.00 p.m. followed by Interment at Helston Cemetery.
************************************************************************
2018
SAMPSON Pamela Joan (neé Martin)
On Monday 24th September 2018 at Polventon Residential Care Home. Wife of the late Derek, mother and best friend of Lesley.
Former secretary at St Michael's Junior School, shorthand/typing tutor
at Helston Adult Education Centre, ballroom dancer and steam railway rider.
Funeral Service at St Budock Parish Church on Thursday 11th October 2018 at 11.00 a.m. followed by Interment at Helston Cemetery at 12.30 p.m.
***********************************************************************
2018
POLGLASE, Veronica E nee JOHNS ( 1954- 02 Jun 2018) age 64
On Saturday 2nd June 2018 peacefully at the Royal Cornwall Hospital Veronica aged 64 years of Porthleven. Loving Mum of Robert, much loved Nan of Benjamin & Jacob, a dear sister of Margaret, David & Peter. Funeral Service will take place at St Bartholomew's Church, Porthleven on Monday 11th June at 11am.
***********************************************************************
 16 Dec 2017
ALLEN Clarice  (-16 Dec 2017) age 93   
On Saturday 16th December 2017 peacefully at the Royal Cornwall Hospital aged 93 years of Porthleven. Loving wife of the late Oliver, a much loved Mum & Gran. Funeral Service will take place at St Bartholomew's Church Porthleven on Friday 5th January at 1pm. Family flowers only, donations may be given for Cornwall Wildlife Trust by a retiring collection or sent to F.E Strike & Sons, Funeral Directors
***********************************************************************
12 Jul  2017
TREGLOWN Tony aged 70, passed away peacefully at home on 12 July 2017. Loving husband of Hazel and proud dad of Elizabeth. The funeral took place in Porthleven on 28 July. He had been in failing health with Parkinson's Disease for nearly 4 years.
**********************************************************************
08 Jul 2015
ROBERTS Jef     1933-2015
Obituary – Mr. Jef Roberts, Porthleven, Former Mayor of Helston
Breage School Field was almost full of cars due to the large number in attendance at the funeral service of Mr. Jeffery Roberts, aged 81, held at Breaney Methodist Chapel. Pastor Bill Reed, a lifelong friend, conducted the service and Jef's son-in-law, Paul Jenkin played the organ accompanied by Mr. Paul Benney.
Born on the 27th June, 1933, to Peter and Winnie Roberts of Tresaddern Farm, Ruan Minor, Jef was given his mother's maiden name of Jeffery. He attended Ruan Minor Church of England Primary School, walking there after hand-milking the cows. Returning from school, he would then fetch the cows in and feed the pigs. He also helped with haymaking, digging corn and picking potatoes. In later years, he went to school by milk lorry, along with his sister, Sue and they delivered the milk to customers along the way.
Jef loved to play football but he had to play in either plimsolls or hobnail boots as he didn't own football boots. In about 1948, at the age of 15, he finally persuaded his Mother to buy him some boots. Unfortunately during the first match with them on, he was tackled heavily and fractured his collar bone. That was the end of football for Jef.
Having watched a conjuror at school, an interest in magic was ignited. Jef practised diligently in front of a mirror. In any spare time he sketched, and this interest remained with him all his life.
Jef remained at the school until he was fifteen, when he went to work on the family farm until the age of twenty-one when, following a disagreement with his father, he moved to his Granny Jeffery's farm at Trannack, Lowertown. There was no electricity on the farm, but Jef worked hard there with his maiden aunt, May Jeffery. They later moved to Roselidden Farm at Trevenen Bal. Shortly after, Jef met the love of his life, Jeanette when he went to pick her up from Porthleven to sing at Ruan Minor Methodist Chapel. They married fifty-six years ago at Peverell Road Chapel in Porthleven. Jef always kept a diary, and the entry for the 30th May, 1959 read "Today is the happiest day of my life. I married Elizabeth Jeanette Williams."
They couldn't spare the time for a honeymoon, but instead they went on afternoon trips to places like Gwennap Pit and Land's End aerodrome. Later they enjoyed touring with the Christian Caravan Club. Jef was also a member of the Cornish Magical Society, and he performed at parties, hotels, after-dinner events, etc. He was resident magician one night a week at the Hayle Towans Holiday Camp. His stage name was "Jefro – the Cornish Magitainer".
Jef became a councillor and was Mayor of Helston in the years 1977-78 and again in 1980-81. Jef and Jeanette met the Queen during their first year of Office, during the Queen's Silver Jubilee.
Jef held a variety of jobs such as a travelling salesman, installing fire extinguishers, teaching cycling profiency in schools, and a driver for the St. John Ambulance. He also started the Porthleven School of Motoring, and a picture-framing business at the Harbour Head in Porthleven.
Jef and Jeanette were blessed with two daughters, Heather and Helen, and later six grandchildren.
Jef adored them all, and shared with them his lifelong love of learning about everything. Helen read a poem during the service, and Heather, who lives in Australia, gave the eulogy. His grandchildren also paid tribute to him.
Jef and Jeanette shared a lifelong strong faith and love of church, and Jef had been a member of many churches, including Ruan Minor, Ebenezer, Lowertown, Breage, Peverell Road and Fore Street, the Apostolic, and then Breaney. He was one of the editors of "The Grapevine" – the church magazine at Breaney, along with his great friend, Bill Reed.
The retiring collection was for The Leprosy Mission and Cornwall Hospice Care.
The bearers were his grandsons.
Family Mourners: Mrs. Jeanette Roberts, widow; Mr. and Mrs. E. Riardan (Australia), daughter and son-in-law; Mr. and Mrs. P. Jenkin, daughter and son-in-law; Robert, Matthew, Jonathan and Aislinn Hanley,(Australia) grandchildren; Craig and Megan Jenkin, grandchildren;Sue Tremayne, sister; Rosemary Bray, Verna & Harry Tripconey, Colin & Trish Roberts, Tony & Gloria Roberts, Arthur & Kathleen Roberts, Pearl Roberts, Ray & Pat Boucher; Claude & Jean Bennett, Elizabeth and Ron Endean, also rep. R. Gilbert, William Roberts, Margaret & Trevor Warren, Rosemary Roberts, April Combellack, June Tiplady, Everett Tripp also rep. Ruth Trippand Richard & Helen Tresize, Paul and Mary Louise Combellack, Sarah Combellack, Leslie Bosustow also rep. Joan Bosustow and Esme Wearne, Nita & Cyril Bayliss, Arnold & Eileen Phillips, cousins.
Funeral Directors: F. E. Strike & Sons (Porthleven).
************************************************************************
2013
Emily BEALE nee ORCHARD later WILLIAMS (1912-2013)
The funeral service of one of Porthleven's oldest residents has taken place in the port.
Emily Beale, who was aged 100 at the time of her death, was remembered in a service at Porthleven Methodist Church, led by the Rev Graham Kitts.
Born in Porthleven in 1912, the then Emily Orchard attended the local Board School, and upon leaving went to work in Kitto's Net Loft.
She later worked in domestic service for the Kitto family, until she met and married John Williams in 1934. John was a local fisherman and long-time member of the Merchant Navy. They had one son, also called John.
Emily was a stalwart member of Porthleven Methodist Chapel for most of her life; she also enjoyed knitting.
She moved to the Cornwallis Nursing Home in St Ives at the age of 98, when her health began to deteriorate.
Her grandson, Keith Williams, paid a moving tribute to his grandmother during the service.
****************************************************************
18 July 2007
POLDEN Christopher YYYY-2007
POLDEN (CHRISTOPHER) – On Wednesday July 18 2007, tragically in Greenland, Christopher aged 30 years. Loving Son of Peter and Vera, a dear
Brother of Alastair and Gillian. Funeral service will take place at Porthleven Methodist Church, (Cornwall) on Monday August 13 at 1pm.
***********************************************************************************************
1st April 2004

On a personal issue, I shall miss him immensely as he was a good friend and as many of the people of Porthleven know we compered the carolare at the Harbourhead over the latter years together. There will be no carolare this year but it's hoped to re-instate it again next year – God willing.
It's very important Porthleven has a strong voice at Kerrier and hopefully with its independent tradition another independent will take Godfrey's seat and carry on the good work. Godfrey Stephens initiated, party politics have in my opinion no role to play at local level and let's hope it stays that way in the future.
Coun Tommy Bray, independent ex- chairman
***********************************************************************************************
14 Feb 2003
BRYANT Jean  YYYY-2003 age 69
Edgcumbe Methodist Church was full for the funeral of Jean Bryant of Porthleven who died at West Cornwall Hospital, aged 69 years. The funeral was conducted by the Rev Margaret Wallwork and Pastor Bill Reed. Cremation followed at Penmount and the interment of ashes will take place later in Porthleven Cemetery. Mr John Gilbert was the organist.
Jean was born at Rame Terrace, Rame Cross, the elder daughter of Clarence and Bessie Richards. Jean attended Halwin School until the age of 15 and then became one of the first female pupils to attend Camborne Technical College where she qualified in shorthand, typing and bookkeeping which she put to good use during her 11 years employed by J C Annear and Co., Penryn, as a secretary.
The family moved to Mill Close, Porthleven, in 1977.
Jean's musical talent was inherited from her mother and her grandfather Richards, who was bandmaster of Rame Cross Band, and first became apparent at an early age whilst attending Edgcumbe Sunday School. Jean's piano teacher was Mrs Myra Bonny at Longdowns and she became a pupil at a school of music in Falmouth run by Mrs Roskilly. In her teens, Jean became a member of Rame Cross Concert Party, formed by her mother, entertaining folk around various parts of the county. Jean was also a member of the chapel choir and youth club and eventually became official organist having been taught by the late Miss May Thomas. She was official organist at Chynhale for many years, organising numerous musical events there.
Denys and Jean were married in 1960 and celebrated their Ruby Wedding three years ago. They had two daughters, Sonia and Tania, and the family attended both Sithney and Chynhale chapels, where Jean was always involved with music.
During her lifetime, Jean accompanied many talented local soloists and organised numerous musical concerts. While at Chynhale, she formed a girls' choir which entertained at many venues in West Cornwall. Jean acted as deputy pianist and deputy conductor for the Porthleven based Keynvor Singers and was rehearsal pianist for the Helston Opera Group. One of her happiest times was the nine years that she spent as the accompanist for the Cury Players popular pantomimes. Jean acted as relief organist for many places of worship in the Helston area but one of her favourite occupations was to play at flower festivals.
Jean was a local correspondent for the Falmouth Packet, Helston Packet and other publications for many years and helped with numerous fundraising events for Porthleven Cricket Club of which Denys has been a member for 40 years and is currently their president.
Jean was an ardent supporter and treasurer of the Porthleven Auxiliary of the RSPCA spending many hours at home knitting items for fund-raising events. Recently she was pleased to become a member of the management committee of the RSPCA Centre at St Columb.
Although music played a major role in Jean's life, her family and home always came first. The recent highlight of her life was the arrival of her dear grandson, Matthew, last July.
Represented at the funeral were Balwest, Breaney, Chynhale and Leedstown Methodist Churches, St Bartholomew's Church, Porthleven, St Sithney Parish Church, Porthleven Cricket Club, Porthleven Ladies Circle, RSPCA, Penzance and District Branch of British Heart Foundation and Helston Opera Group.
Chosen bearers: Christopher Thomas, nephew; Gary Tremayne, cousin; Paul Jenkin and Richard Maddern.
Family mourners: Mr D A Bryant, widower; Dr and Mrs C French, Mr and Mrs N Bird, daughters and sons-in-law; Mrs J Campbell, sister; Mrs B Richards, aunt; Miss S Eddy rep Miss A Eddy and Mr R Eddy, Mr and Mrs A Wallis, Mr C Thomas rep Mrs L Thomas, Mr and Mrs B Hosken, Mr and Mrs R Jenkin, nephews and nieces; Mr and Mrs C L Thomas, brother-in-law and sister-in-law; Mr and Mrs A Noall rep Miss Mavis Magor, Canada, and Donald and Margaret Magor, London, Mr and Mrs A Richards, Miss A Noall, Miss J Noall, Mrs S Tremayne, Mrs A Hosking, Mr E Combellack, Mr and Mrs D Combellack, Mr and Mrs K Hosking, Mr and Mrs K Visick, Mr G Tremayne, Miss H Hosking rep Mr C Hosking, cousins.
**************************************************************************
25 Jun 1948  – RICHARDS – 5 of the 6 Richards brothers: John Henry, Billy, Perkin, Tom and Gilbert and Roy MEWTEN, their brother-in-law were lost when the Porthleven-based fishing boat,  PZ114, the ENERGETIC sank off the coast after collision with a freighter.
Ralph RICHARDS  was the only brother of six that survived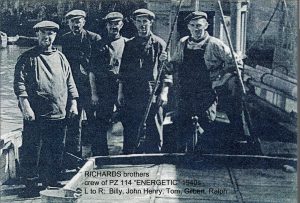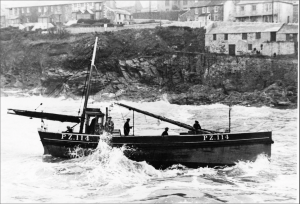 **************************************************************************